PET ESSENTIALS TAURANGA
At Pet Essentials we cater for all your pets. We have a large range of foods, and are able to work with you to find the best nutritional solution to suit your pet, your lifestyle and your budget.
We are here to help when you have picked up a new addition to your family. It goes without saying that your existing pets are equally important to us too. There is also a customer notice board, which contains details of pets wanted or for sale/giveaway plus lost and found.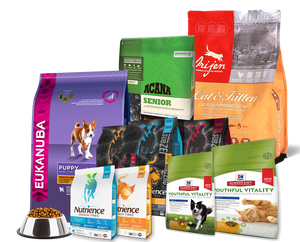 Pet Food Specialists
We stock a variety of dog and cat foods, so we can cater for you pet's specific needs. We do however strongly advise a balanced diet and in the case of cats and dogs, a combination of meats and biscuits. At Pet Essentials you can get a wide range of preservative free frozen meats. We also stock a large range of premium foods, biscuits, pet rolls, treats, bird seeds, fish foods and accessories. Frozen meats and minces are prepared to Pet Essentials specifications and contain no preservatives.